Family Friendly Short Story Writing Contest
The 2011 Short Story contest was a huge success! We had some amazingly talented writers contribute this year, which makes judging them such a hard job since there can only be 3 winners!
We want to send out a HUGE THANK YOU to our panel of 7 judges that helped out this year - what a blessing they were!
Scroll down to read the fantastic entries we received this year, they all deserve to be read and enjoyed! If you like the stories you read, leave a comment - it encourages the author to keep writing!

---
Have You Heard Who the Winners of Short-Story-Time's 2011 Short Story Writing Contest Are?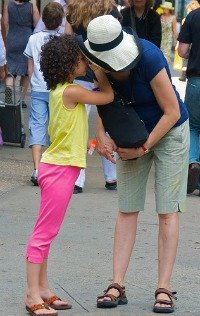 1st Place - Pedro's Magic Apples, by Jan Fenimore- $150 plus a one-year subscription to the CBI Clubhouse!
Jan Fenimore has been writing for children for over fifteen years. She lives in New Mexico with her husband, whose family history is an inspiration for many of her stories. She is fascinated by foreign cultures, with both contemporary and historical stories to tell. She feels teaching children about others in the world is both necessary and important. If you would like to contact Jan, please fill out our Contact Us form and we will be happy to pass your information along to her.
2nd Place - The Most Beautiful Thing in the World, by Ella Kennen - $50
Ella Kennen is a military spouse and homeschooling mom. She was born in Puerto Rico but has since lived here, there, and -- currently -- in England. Ella loves reading and writing children's stories. Find out more about--her writing at EllaKennen.wordpress.com
3rd Place - My Magical Maui, by Laura Thomas - $25
Laura is a wife, mother of 3, and part-time worship director with a passion for writing. Born and raised in England, she now lives in B.C., Canada where she has begun fulfilling her dream of writing for children. Several of her stories and articles have been published in magazines, and she has just received a book contract for her first novel manuscript. She believes wholesome reading with good, solid morals is critical for children in their most impressionable years, and would love to play a part in having a Godly impact on young lives.
* The judges also wanted to recognize the runner-ups with an honorable mention:
Butterflies are Free, by Jan Fenimore
Joey's Big Blue Sky, by Michele M. Prestininzi
Congratulations to the 2011 Short Story Time Writing Contest Winners!
Click here to read the 2010 Contest Entries and Winners
Read the 2011 Contest Entries:
Click below to read the 2011 short story writing contest entries. You can vote for your favorite story and leave comments. Always be courteous and respectful when leaving comments.
*Webmaster reserves the right to delete inappropriate or disrespectful comments.

---
---
Return from Short Story Writing Contest to Short Story Time home.