Fun Facts About Africa for Kids!
What is Christmas in Africa like? Where do native African Tribes live and more!
Learn fun facts about Africa, see African elephant pictures, learn how to make African Crafts for Children, read African Creation Stories and more!
We're going to take you south of the equator on this adventure! So grab your net, your safari hat, and plenty of bug spray because we're going to Africa!

Facts About Africa:
South African Flag
South African Flag picture by Afromusing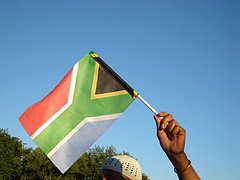 - Did you know that the Wodaabe people don't name their children until they are 12 years old?
- The people of the Vagla tribe use their rooftops as a street? Their houses are joined together around a courtyard and they do business on the top of their houses.
- A Pygmy adult is only about 4 1/2 feet tall. The word "pygmy" means "elbow high".
- The San people made stringed musical instruments out of tortoise shells and antelope tendons.
Click here to see pictures of these Native African Tribes.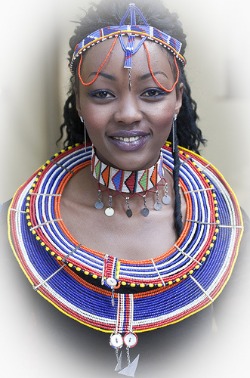 Picture of African necklace is by infomatique.
The best way to learn something and remember it is to hear a story about it. That's why African creation stories have been passed down for for thousands of years. Learn more about Africa through these stories.
A great way to learn about modern African is to let Anna Hibiscus take you on an African adventure! She lives there and knows all about it's wonders!
And if you want an African adventure story, join Sam Fox as he's attacked by an elephant, blinded by a cobra and meets someone from a Massai tribe. An extreme African adventure for sure!
Facts About Africa: African Animals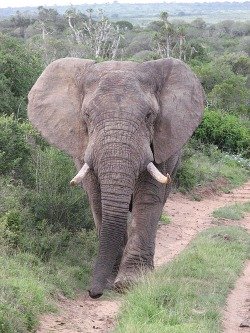 Africa has so many different types of animals that many of us can only see in a zoo. When we think of Africa we think of giraffes, elephants, zebras, lions, tigers and hippos. But did you know that if you want to see a cheetah, then Namibia is the place to visit. Namibia is on the Southwestern coast of Africa and it has more cheetah's than any other place in the whole world!
- Did you know that many African animals and even people live in the Baobab tree?
Also called the tree of life, the mature baobab tree is usually hollow inside, providing shelter for people and animals.
To learn more about African animals visit the African Wildlife Foundation.
African elephant pictures by Evo2000, Taken in Kariega Africa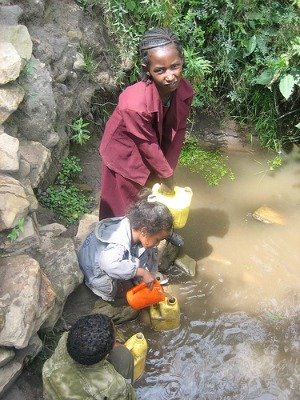 Something we don't like to think about is poverty. But that is the real everyday world for many children in Africa. Read Sarah's Story of Hope and find out how you can make a difference to a child like her in Africa.
Girl collecting water image by Water.org


Learn how to make an African drum, a Massai necklace, and an African bowl at home with just a few things around the house.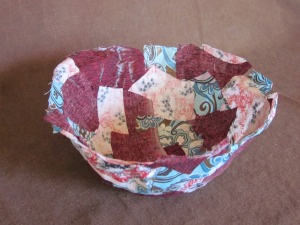 Christmas in Africa
Many Africans spend Christmas just like we do. Going to church, singing Christmas carols and gathering for a meal. The meal might be different though. In some countries in Africa, goat, instead of turkey is on the holiday menu. Presents are not usually the focus in many African homes, instead you might get a new outfit to wear to Christmas church service.

---
Perhaps you'd like seeing these pages . . .
Return from Facts About Africa to Short Story Time Home
---