African Creation Stories for Kids

These African creation stories have been passed down from native African tribes and indigenous peoples of Africa for centuries!
Share these stories with your children and teach them the rich cultural inheritance of stories from another culture being passed down through generations!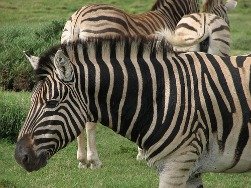 Every culture has stories that have been passed down from grandmother to father to daughter to grandson and great-grandson and on and on. These stories from native African tribes help you get to know the people and the area, the animals and the land. Creation stories try to explain how something like the sun, water or an animal came to be. Leaning through stories is fun and we have an easier time remembering things we learn when we attach them to stories. So here we go on an African creation stories adventure!
Zebra picture taken in Kariega, Africa by Evo2000.
African Creation Stories
How Zebras Got Their Stripes is a fun creation story about how the first zebra got his stripes! The story originated in Namibia where native African tribes have passed the folktale down for generations.
How the Rhino Got His Skin - this is a creation story based on one of the Just So Stories by Rudyard Kipling, you'll giggle as the little bushman takes on the mean rhino!
The Leopard and the Sky God has two African creation stories in one book. This funny story tells how thunder was made and how the tortoise gets his shell.
The Rainstick: A Fable

A young boy's quest for the rain takes him on a journey from the hot, dry savanna to the moist, comforting rain forest. Travel with him and solve the riddle, A slender staff touches earth and sky at the same time. You will encounter languid lions, a crafty crocodile, and a brilliant bird on your way to discover the place of the rain. Riddles, myths, history, traditions, and an ancient instrument of West Africa are the inspiration behind The Rainstick, A Fable. This enchanting story is enriched by full-color illustrations that bring the landscape of West Africa to life.
A True African Story
A Mama for Owen is not an African creation story but it is a true story that happened in Africa after a terrible tsunami, it is one of our favorite stories - because sometimes true stories have the happiest endings.
A Mama for Owen - eBook

Owen the baby hippo and his mama were best friends. They loved to play hide-and-seek on the banks of the Sabaki River in Africa. That was all before the tsunami came and washed Owen's world away. But after the rain stops, Owen befriends Mzee, a grayish brown tortoise. He plays with him, snuggles with him, and decides he just might turn out to be his best friend and a brand-new mama.

Inspired by the tsunami of 2004, acclaimed storyteller Marion Dane Bauer and celebrated illustrator John Butler depict this heartwarming true tale of healing, adoption, and rebirth--with splendid illustrations and oodles of love. Recommended for ages 2 to 6.
An African Good Samaritan Story
Many of us have read or heard the Good Samaritan story in the bible. This African story is based on the bible story but is set in Africa. We think you will love the different spin on this story that shows us that we can be a good samaritan anywhere, in Samaria, in Africa or even on our own block.
African American Stories
We learned that African creation stories and folk tales are passed down from older generations to younger ones for many years and through many trials. When African people where taken captive and forced to be slaves in Europe and the United States they didn't leave their stories in Africa. The culture of African Americans is a rich and vibrant culture and African creation stories are a big part of that culture and heritage.
An Illustrated Treasury of African American Read- Aloud Stories

Reading aloud to a young child is one of the best ways to introduce that child to the joys of reading. The selections in this elegant volume are designed to be read aloud in ten minutes or less, or to be devoured by developing readers on their own. "African American Read-Aloud Stories is a classic collection including myths, fables, folk tales, fairy tales, tall tales, and much more.

It also includes African American songs, biographies of famous African Americans, and recollections of slavery. Thirty specially commissioned color illustrations by accomplished children's artists enhance reading enjoyment. "Read-Aloud Myths and Legends collects time-honored stories from the Greek, Roman, and Celtic traditions. Also included are myths from Egypt, Arabia, Nigeria, China, Japan, Hawaii, and more. Full-color illustrations bring the myths to life. Hardcover, 192 pages.
African Crafts for Children
Once you've read these African creation stories try your hand at making these free African Crafts for Children.
---
Return from African Creation Stories to Short Story Time Home
---