So what is an e book reader anyway?

What Is an E-Reader?
Do I need an e book reader, do my kids need one and if so, what is the best one? We're going on a hunt for the best e reader!
Is it the Sony Reader, the Amazon Kindle or the Apple iPad?
Scroll down to read the reviews.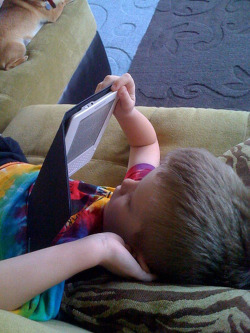 You know how much we love to read! We read all kinds of books, classics, mystery, adventure, fantasy and more.
But we also read all different types of books like audio books, we read books online, we even download books to our I-Pods!
Now there is a new kind of way to read books that is taking off in a HUGE way and we want to tell you all about it so you don't feel left out!
It's called an e reader and it's really cool! It's kind of like an I-Pod Touch but it's for books and it's great because you can have hundreds or even thousands of books all at the same time on your e book reader!

Talk about convenience!
When we go on a road trip to our Nana and Pappy's we love to take books with us to read, especially in the car. It's sometimes a pain to haul four or five library books each with us because they're big and bulky. With our family and the two dogs in the van we don't have much room to spare for bulky library books!
So that's one reason why we're excited about the e readers! They're small and light and we can find all sorts of books to read online and put so many on them that we'd never run out of reading material on the way to Nana and Pappy's!
They can store literally hundreds or thousands of books for you to enjoy anytime - while you're waiting at the doctors office, waiting for mom when she gets caught up talking to the neighbor at the grocery store and they're especially great on road trips!
The e book readers are so popular that Amazon actually sold more e books for them this past Christmas (2009) than paper books!
eReader Reviews:
Sony Reader
Amazon Kindle
Apple iPad
Time Marches On...
Although we really do love this new technology (it is super cool!) and we're not opposed to change, we still absolutely love our old paper books. There's nothing quite like curling up with a book in your favorite chair or corner and reading for hours.
Time will march on and the Sony Readers, Amazon Kindles, Barnes and Noble Nooks, Apple iPads and more will get better and better with newer technology, faster downloads and more amazing apps.
We know this will happen and we'll try to keep up, but we sure hope our old paper books stay around a long, long time.
---
Return from E Book Reader to Short Story Time Home Boy w/ Kindle Photo by Eric Rice
---