Apple iPad - an E Book Reader and So Much More
Our most recent adventure took us to the Apple store where we all fell in love with the Apple iPad. For years we have been a family split by the PC and Mac wars! I, being a staunch PC supporter and my husband chanting, "Once you go Mac, you never go back!" I am ashamed to say I am very resistant to change, and the PC I know so well has been my faithful companion since the first time I surfed to World Wide Web. But I have to say that the ease of use and the beauty of the Apple iPad has finally turned my head.
Apple iPad: How it stacks up as an e Book Reader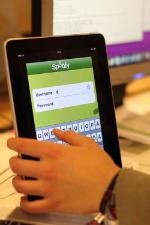 We have reviewed the Pros and Cons of the
Amazon Kindle
and the
Sony Reader.
While they are both great
E Book readers
in our opinion, we would have to say that if we were to spend our money, we would choose the Apple iPad (or even the iPod touch) because it is so much more than just an e Book Reader.
Pros
1) It has a beautiful touch screen that makes colors and text crisp and vivid (it really is gorgeous!).
2) You can get the Kindle app and start downloading books straight from Amazon and you can utilize the Apple Book reader (although their books are a bit more expensive than Amazon's).
3) Download free books from public domain sites like Project Gutenberg.

4) Once you own a book on your Kindle app you may download it to any other devices such as your PC, iPhone, iPod, etc.
5) The screen is fantastic for night reading or low light settings. (You won't need a book light like you would with the Kindle.)
6) You get to choose between 10 different font sizes for ease of reading.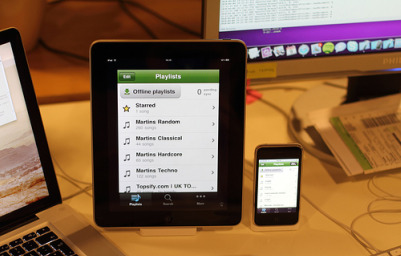 Cons
1) The battery life. Even though it is pretty good at 10-12 hours, it's still much shorter than a dedicated e Reader like the Kindle or the Sony which average from 7-14 days.
2) Harder to read in the sunlight or high light settings (glare from indoor lighting).
3) It's heavy - weighing in at 1.5 lbs which doesn't seem like much unless you're holding it up for hours. (Compared to an average sized book which weighs about 12 oz. or a Kindle that weighs about 10 oz.)
4) Added cost of 3G. Every Apple iPad comes standard with Wi-Fi, but if you don't want to always have to find a coffee shop, then you'll need to purchase the 3G model which is $130 more expensive plus you have to pay for a monthly data plan. (The Kindle comes standard with free 3G.)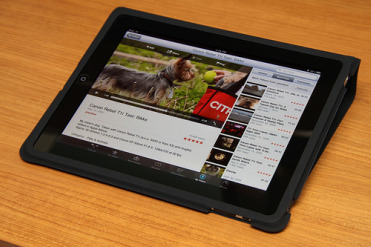 And So Much More
Games, movies, music, email, news, a virtual keypad, web browsing, pictures and more!
Many critics say it's just a glorified iPhone or iPod. I would have to agree with that to some extent, however, the larger screen and keypad make web browsing, email and reading much easier.
One downside I can see, (using it as an e Book Reader) especially for kids, would be the temptation to get distracted by all the other bells and whistles. But if they do we can still guide them to use their iPads or iPods for some fun educational purposes!

---
Return from Apple iPad to Short Story Time Home

Click back over to eBook Reader
---


Up close Photo by Andreas Blixt
iPhone Photo by Andreas Blixt
With case Photo by Yutaka Tsutano