African Poverty of the Native African Tribes and Indigenous Peoples Africa
One girl's story.
A young girl's story of African poverty in her village and the choices she must make. Read this and other free stories for children while learning about another culture and how you might be able to make a difference no matter how big or small you are.

Sarah's Hope Against African Poverty
by Kristina Harding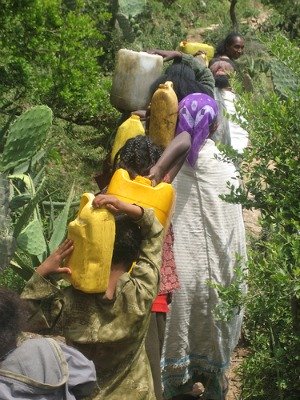 My name is Sarah and I live in Kenya, Africa. I will turn 14 years old in three months but I am dreading the day. I wish I could stop the sun in it's place and my birthday would never come.
You see, when I turn fourteen I must marry a man in my village so I can carry water for him and his children. His wife died last year, she got cholera which is a sickness we sometimes get from drinking the dirty water. She used to carry the water for him and his small children, but in three months, on my birthday, I will begin to carry the water for him.
In my village, the oldest girls in the family are water carriers. Someone has to do it. Our village is an hour walk to the nearest river, so to get water to cook with, clean the dishes, drink, bathe and wash the clothes we have to carry it from the river to our village.
I can't carry as much as my mother yet. She can carry 80 pounds of water in the large containers she ties to her back. I can only carry about 50 pounds so I will have to make more trips, maybe three a day instead of two. It will take me 4 to 6 hours to carry the water ever day.
Sarah's Hope Against African Poverty Part 2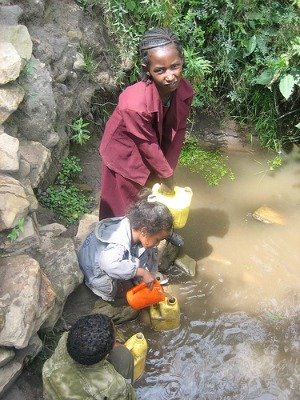 I will have to quit school to carry the water. I am so sad about that because I love school. I love doing
African crafts for children,
especially drawing
African elephant pictures!
Last week we learned about the African flag, I drew a picture of it. One of my favorite parts of the school day is hearing my teacher tell us
African creation stories!
Sometimes she even lets me read some of them to the class. I am the best reader in my class, even better than the boys! I love to read, especially about my country. It is a beautiful place, with strong and determined people. I wish I could stay in school and read all about Africa, the other native African tribes, and visit many of the places I read about.
Maybe I still can. Maybe I won't have to get married and carry the water. I have a hope. My cousin told me about a pipe he saw when he visited another village with his mother. He said that when you pump the pipe handle up and down, clean water streams out of it! I have never seen or heard of such a thing so I thought he was lying until I overheard mother and father talking about it too!
I overheard them praying late last night that our village might get a pipe that flows clean water so I will not have to get married and carry the water from the river. So now I pray too, I pray that the pipe with the clean water will come before my birthday. That's the only thing I want for my birthday and it would be the best present ever! Not only for me, but for the whole village, especially all the other women and girls who have to carry the water. I have a hope, a hope for clean water and a better life.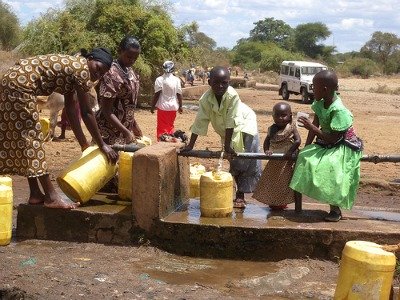 What You Can Do to Get Involved
Sarah's Hope Against African Poverty is a fictional story based on real life situations that happen in Kenya and other places around the world every day. Most of us reading this story can turn on a tap and clean water pours freely out whenever we want. But many, many people around the world have never even seen a water faucet, they think it's something out of a fairy tale.
Some organizations are working hard to change that. They are bringing water into villages like Sarah's and changing people's lives, helping ease African poverty. You can be a part of it if you like by clicking the links below to find out how.
Help African Poverty by Getting Involved with Water.org
World Vision is also bringing clean water to children all over the world. Learn more by clicking here.
All images on this page are by Water.org

---
Return from African Poverty - Sarah's Hope to Short Story Time Home
---