Butterflies are Free
by Jan Fenimore
(Rio Rancho, NM, USA)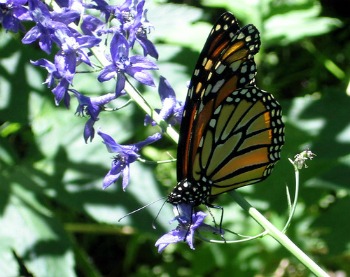 Read along or listen to the story, Butterflies are Free.




"I'm home," 8-year-old Armida called out, closing the front door. "Mama, look at the book I checked out from the library. It's full of butterflies."

"We're in the kitchen, Armida. Come join us at the table," Mama said. "We have sad news."

Mama dabbed tears away with a handkerchief. Papa looked sad. "Abuelo Jose went to live with the angels today. We will be traveling to Mexico to say goodbye," Mama said.

Papa said, "We will leave tomorrow on a train to Mexico City. Be sure you take books and small toys so the train ride won't seem too long."

Armida decided to take her library book about the butterflies. She wouldn't show it to her parents now. There would be plenty of time on the train. She looked at her 5-year-old sister, Lupita. She had drawn two pictures; one of a grandfather playing ball with two girls; the other, of angels carrying Abuelo Jose to the heavens. Both girls loved their grandfather. They would miss him.

The phone rang. It was Mama's sister, Marta. Armida couldn't help hearing their talking. They wanted to bring Abuela Dora home to California now that she was alone. Armida thought of the last time her grandparents had visited. They had been so much fun. Maybe she could live with us, Armida thought.

As they boarded the train the next morning, Armida noticed it looked sleek and fast. Everything on the train looked clean and new. Maybe we will get to grandmother's sooner than Papa said, Armida thought. After taking their seats she asked Mama.

"The train ride will take several days. It is a long way to Mexico City," Mama said.

"Look at this butterfly book I brought to read. It says the Monarch butterflies stay at their winter home in the Magic Circle not far from where grandmother lives. Will our train go through their home?" Armida asked.

"I think it might go near there," Mama said. "We will see."

"The Monarchs are beautiful. I would love to keep them in a cage so I could watch them all the time." Armida said.

Papa looked over from playing a game with Lupita. "The butterflies need to be free, nina. They must follow the path nature has made for them."

Armida looked at the picture in her book showing the orange and black colors of the Monarch soaring toward the trees and she knew Papa spoke the truth.

"Papa, did you know the butterflies fly thousands of miles to get away from the cold of winter. When it is cold they cannot fly. I wonder how they know to go to the Magic Circle every year."

"It's a knowing within them. It has been that way forever. They must survive and know how."

The second day of the journey, Armida and her family changed trains. Worn seats, dirty windows and walls with chipped paint made the train look older. She hoped this train would not make the journey longer.

Armida watched the landscape roll by, pointing out to Lupita the cars bouncing along dirt roads; a man wearing a large sombrero pulling a rope with a stubborn donkey attached to it; and vendors sitting alongside the train tracks at every small village hoping to sell their wares. Everything looked so different from California, Armida felt she had stepped back in time.

The third day of the journey the train followed tracks that turned east, away from the coast. By afternoon the train had developed some noises the passengers had not heard before. After climbing a series of hills it coughed and billowing smoke rose in the air. Then it slowed and finally came to a dead stop in a mountain valley. Everyone waited for the conductor to come by to tell them what had gone wrong.

The news didn't sound good. No one knew the problem with the train's engine. It might take a while to find out. The conductor said everyone could leave the train but must promise not to go too far. They should listen for the train whistle signaling it was ready to go again.

Armida and Lupita held hands, jumping in circles now that they could go outside. It had been a long trip. They longed to get up and run around. As the family stepped off the train, the sky seemed dark. Was it smoke still lingering or rain clouds blanketing the sky? No, the sun shone through in spots. Then Armida noticed the colors. Monarch butterflies, thousands of them, flew above them, the rustle of their wings sounding like the crackle of paper in the wind. The blanket of orange and black spread their colors as far as the eye could see.

"Mama, Papa, Lupita. Look. Butterflies everywhere. They are really here."

"Beautiful," said Mama.

"Breathtaking," said Papa.

"Let's touch them," suggested Lupita.

The family walked up a hill near the trees and sat on fallen logs. The butterflies brushed their wings against them, and tickled them while landing on their arms and legs.

It was all Armida and Lupita could do to keep quiet and not move. Armida's heart raced. Squeals escaped from Lupita's lips until she remembered to be still again.

Papa reminded Armida. "Isn't it much better to let the Monarchs be free? If they spent their lives in cages we would not see them here."

"Yes, Papa," Armida said. "They should be free."

In the distance the family heard the train's whistle calling the passengers. They hated to leave. Armida threw the butterflies a kiss as the family trudged down the hill. She hoped on the train ride home she might be lucky enough to see them again.

Within a few hours the train arrived in Mexico City. A man with their name of Aragon on a sign stood waiting for them. He worked for Abuela at their store. He explained the store had closed in honor of Abuelo Jose's passing. The man took Armida and her family to their grandmother's home.

When she opened the door Abuela Dora's face lit up with a smile as tears streamed down her cheeks. "My familia, I'm so glad you came."

Later, after dinner Mama suggested that Abuela Dora return with the family to California.

"Let me consider this," Abuela said. "It is kind of you to ask. I will think on it."

Many people came to the old adobe church to celebrate Abuelo Jose's life. The church bells rang again and again. Afterward, at Abuela Dora's house her friends brought food and loving touches.

The next day the family made a trip to the grandparent's store. Paintings, pottery and handmade jewelry sat everywhere. Tourists and local friends bought lots that day. Armida thought about her grandmother's life in Mexico City. She seemed happy. Maybe she wouldn't want to come to California.

That evening Mama, Papa, Lupita and Armida sat around the kitchen table in Abuela Dora's home.

"Mama," Armida's mother said. "Now that you are older and alone, we want to take care of you. Why not come home to live with us."

"It is wonderful of you to want me and to care that much about me, but I won't be able to come." Abuela sipped from her cup of atole. "I have our business here to run, my church that I love and many friends who care about me so I'm not alone. I want to remain here. This is where I belong for now."

Armida, Lupita, Mama and Papa looked at each other. They understood. Armida remembered how she had wanted to keep the butterflies with her so she could watch over them. Mama and Papa wanted the same for Abuela. But sometimes caring means letting your loved one fly free like a butterfly.

**Image courtesy Moonjazz.