Dr Seuss Book Club...
all the fine print.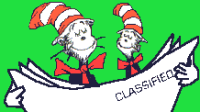 The Dr Seuss Book Club is one of the better childrens book clubs to join as you can cancel at any time and there is no purchase commitment. Shipping is also free on your introductory offer.
If you choose to sign up with this childrens book club, we think it would be wise to cancel after you receive your introductory offer or you may be stuck with books and bills you may not want.
Here's the skinny:
1) You get four Dr. Seuss hardcover books and a tote bag free with their introductory offer when you buy The Cat in the Hat for $4.99.
2) At the time you sign up for the Introductory offer you also have the option of buying another two books for an additional $4.99, so you get 6 books for $9.98 and because you purchased them with the introductory offer you pay no shipping and handling charges.

3) After you have received your Introductory offer, we think it's a good time to cancel. Up till now it's a good deal. Of course they are banking on the hopes that you don't cancel and that's how they make money.
4) If you choose to continue your membership each month the Dr Seuss Book Club will send you 2 new Dr. Seuss books for $4.99 each plus an undisclosed shipping and handling charge.
5) If you don't want to keep the 2 books they send you, you may send them back and they will refund the purchase price BUT...they will keep the shipping and handling fee they charged you to send them AND you have to pay to ship them back to the company. That's where we think the good deal goes out the window. You can't refuse the shipments beforehand, so it's a hassle and costs you money to send them back.
But if you do want all the Dr. Suess books then it's still a good deal at $4.99 each.
6) If you continue with your membership and keep two of the shipments they send you then they enroll you into their Free Preview Program. Which means that in addition to the 2 books a month they'll send you, they will also send you (four times a year) a card telling you that you have 10 days to decline 2 more giant sized books or they will send them on to you and charge you for them plus the undisclosed shipping and handling fee.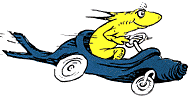 7) On a positive note, you do not have to provide your credit card when signing up and they will send you a paper bill. If however, you fail to pay your bill on time you will be charged late fees.
8) Please be aware that all childrens book clubs reserve the right to change their policies and offers at any time and they do! So what I've stated here may not still be the case. Make sure you read the fine print, the membership agreement and the terms of use on each site carefully if you choose to sign up with any book club.
So is the Dr Seuss Book Club a good deal?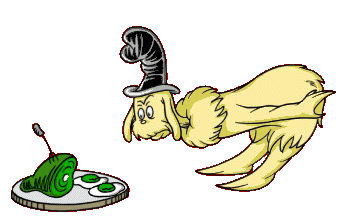 If you do want the whole Dr. Seuss book collection we do think it's a great deal. Of course you can search for used copies online and probably find them at a similar price without being locked into a membership agreement.
Our advice...
If you're just looking to get a good deal on a few books, then go ahead and sign up for the Dr Seuss book club introductory offer (with the bill me later feature, so they don't have your credit card on file) and then cancel.
If you want to join a book club we can fully endorse, check out the Scholastic Book Club.

---
Return from Dr Seuss Book Club page to Short Story Time home.


---