Mama's Christmas Surprise
by Nadine
(Iowa)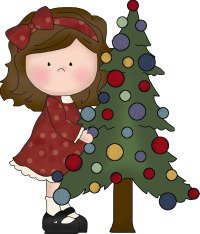 Esther raced into the house and dropped her books on the kitchen table. Then she saw the big J.C. Penney's catalog with the plain brown wrapper. "Oh!" she said excitedly, "Mama's Wish Book! This year you are going to get the gloves you want, Mama! No more wearing your chore gloves to church," she snorted, knowing Mama was outside helping daddy with the milking. Esther had baby sat for a neighbor and saved her allowance all year to get Mama these gloves.

Esther waited impatiently for sleep, until she no longer heard her parents talking. The cuckoo clock chimed 11:00. She padded quietly down the wooden steps and into the living room. She quickly scooped up the catalog lying next to Mama's favorite chair. She hurried back up the stairs, trying to be quiet, hoping no one heard her.

She crawled into bed and yanked the covers over her head. She pulled the flashlight from under her pillow. She prayed that the gloves were there. The gloves that Mama wouldn't buy for herself, because they had had a tough time on the farm the last couple of years. Tears stung her eyes when she saw the gloves, the very same ones that she'd heard her Mama say to Daddy, "Maybe someday, I'll get them."

Esther flipped to the order sheet and read, "Please allow 6-8 weeks for delivery." She flashed the light on the calendar. Christmas Eve was exactly 8 weeks from tomorrow. The order had to go in the mail in the morning.

Mama would notice an order sheet was gone, so Esther tore a sheet of paper from her school notebook. She neatly wrote the information about the gloves. Esther knew why her parents had told her math was so important. She figured the tax and postage and tucked it in an envelope.

The next day, Esther watched from her upstairs window, as the cloud of dust approached the lane leading up to their house. She ran out the back door, running just as fast as she could, hoping Mama didn't hear or see her. When Mr. Nichols saw Esther, he pulled his jeep over to the side. "Esther, are you all right?" he asked worriedly. "Yes, I am fine," she said out of breath, but I need to buy a stamp, without Mama seeing me," she said, as she handed him the exact change.

"Umm, J.C. Penney's," said Mr. Nicholas, as he read the address on the envelope Esther handed to him.

"Yes, but please don't tell her. It's a Christmas gift for Mama. It's our secret, O.K?"

With a twinkle in his eye, she watched as Mr. Nicholas' belly shook and his cheeks turned red. She hadn't realized how white his beard was until now. In fact, he reminded her of Santa Claus.

As Esther walked back up the lane, she knew she had to tell Daddy her secret. "You've got to get the mail every day," said Esther quietly, to her dad, as she helped with the milking chores.

"And why might that be?" asked Daddy, with a big grin.

"I have a package coming for Mama and she can't see it."

Every day Esther came home from school, she peeked at Daddy when Mama wasn't looking and he shook his head. As the days turned into weeks, Christmas approached quickly. They cut down a tiny Christmas tree in the back pasture and hung a bright yellow star Grandma had made at the top. Mama popped popcorn and then they strung it in a chain and looped it around the tree. Mama carefully unwrapped all of the homemade ornaments she had made and collected over the years and hung them up on the branches. Christmas Eve arrived and Daddy came back from the mailbox empty handed.

Esther had a tummy ache when she went to bed, because she had nothing to give Mama. She knew Mama would be up late sewing her gifts to put under the Christmas tree.

"Thank you for making this dress, Mama," she said, as she opened the package. "I love it!" She ran to kiss her Mama and hug her. "I'm just so sorry I don't have anything for you."

"That's O.K., Esther. I have you and your Daddy. I don't need any more than that!"

As Mama pulled the apple pies from the oven, Esther began setting the table for Christmas dinner. Then they heard someone pulling up the driveway. Everyone went to the window and saw Mr. Nicholas making his way to the kitchen door, with a package in his hand.

"That has to be Mama's glo..." said Esther, before she realized what she was saying. "Glorious surprise," she finished, quickly.

Mr. Nickolas handed Mama the package. "I believe this is yours," he said with a twinkle in his eye.

Mama looked from Daddy to Esther. She opened the package Mr. Nicholas had given her. Her eyes lit up when she saw the gloves. "Oh, my goodness!" she exclaimed.

"Who's responsible for these?"

"I'd say Santa is," said Esther. "If he hadn't brought the package on Christmas Day, you wouldn't have gotten them."

"Ho! Ho! Ho! Merry Christmas!" said Mr. Nicholas, with a belly laugh.

It was a Christmas that no one would ever forget.