Lu-Lu Belle's Bedtime Story
by Andrea Dantzer
(West Branch, MI )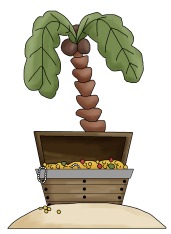 "Okay, Little Lu, which story do you want to hear?"

"I don't want to hear any bedtime stories tonight, Grandma," said the tiny five-year-old girl as she crossed her arms and pouted, "I don't like bedtime stories anymore."

"Whoever heard of a little girl not liking bedtime stories?" her Grandma asked, "That's just silly."

"Grandma," said Lu-Lu Belle, "I'm tired of all those bedtime stories. They are always the same old thing!"

"What about Goldilocks and the Three Bears?" asked Grandma.

"Boring!"

"What about the story of the princess locked high away in the tower guarded by a ferocious dragon?"

"Yawn!" said Lu-Lu stubbornly, "I have heard all those storied a hundred times."

"Hmmm, what about a story with monsters? How about goblins or ghosts? Aliens? Unicorns? A fairy godmother?" With each one the little girl shook her head no, her blonde hair flying around her face. Finally, exasperated with Lu-Lu Belle, Grandma threw her hands up in the air and asked, "All right then, Ms. Smarty Pants, what kind of story would you like to hear?"

Lu-Lu Belle stared off in space for a minute, thinking very deep thoughts. All of a sudden, her eyes grew big, as she sat straight up in her bed and said, "I know! What about a little girl that could change into anything she wanted just by saying it?"

Grandma smiled at her and said, "Why, Lu-Lu Belle, that is a wonderful idea for a story. What would you change into if you could?"

"A star," Lu-Lu Belle said dreamily.

"Do you mean like A Twinkle, Twinkle Little Star, kind of star?" Grandma asked with a twinkle in her own eye.

"No." Lu-Lu Belle giggled and jumped off the bed. She grabbed her purple boa and star-shaped sunglasses and began to sing and dance around the room, just to show her grandma what she meant. "Grandma, you really are silly. How do I look?"

"Magical, darling, simply magical. Now, what else would you be?"

Lu-Lu Belle looked around the room for inspiration as her eyes spotted a long green towel poking out of her closet. She threw her boa and sunglasses on the floor, picked up the green towel and cinched it around her waist.

"See! I am a beautiful mermaid swimming in the ocean with all of my fishy friends!"

Lu-Lu Belle started swimming around while she waved to all her underwater friends. Grandma laughed as she watched her granddaughter rolling around the bedroom floor.

"You look absolutely lovely," Grandma said. "Now, what else could you be?"

Lu-Lu Belle took the green towel off and sat for just a moment before she hopped up and tied a red bandana around her face and held up her fingers like they were old-fashioned six-shooters. "Now, I am a big, mean, ugly bank robber from the Old Old West and I am the leader of the pack of no good bad guys. We just got done robbing a bank and we have to hide our goodies before the Sheriff tracks us down." Lu-Lu grabbed a handful of coins from her piggy bank and hid them under her pillows.

She disappeared inside her closet and when she came out, she was wearing the bandana around her head and carrying a plastic sword. "I am looking for me buried treasure. Argh, matey's-keep looking. That treasure is sure to be mine!" Lu-Lu crept back to her bed and poked around with her sword. "Aha! X marks the spot. I have found me gold!"

"Oh, what a wonderful pirate you are, Lu-Lu Belle. You have found your treasure!" Grandma watched on as Lu-Lu took her coins and hid it in a pair of shoes this time. Lu-Lu Belle walked back to the center of the room as she took off her red bandana. She sat down on the rug in the middle of her room and began to move her arms back and forth.

"What are you doing now, dear?" asked Grandma.

"I am the sailors. I have to go save the Queen's treasure before they can bury it somewhere else! She promised me a reward if I found it for her." Lu-Lu Belle stopped rowing, stood up out of her boat, and began to look for the Queen's treasure.

Lu-Lu walked carefully to her shoes and bent down to pick up the coins. "Oh no! The pirates have spotted me! I have to get out of here!" Lu-Lu Belle ran back to the rug and started rowing as fast as her arms could go. When Lu-Lu Belle stopped, she took a deep breath, "Phew! I made it. That was a close one. Those mean pirates almost caught me!"

Lu-Lu Belle looked at her Grandma and whispered, "Will you be the Queen, please?"

"Of course I will, Lu-Lu Belle." Grandma sat up straight in her rocking chair and tried to look very royal.

Lu-Lu Belle got out of the rowboat and walked, with a serious look upon her face, towards the Queen.

"Here, Mrs. Queen, I have found your treasure and have sailed very far to bring it back to you, but first I have to change into my pretty dress!"

Lu-Lu Belle picked out her prettiest pink dress from her costume trunk and pulled it over her head. Then, she added a necklace and ran to get a pair of her mommy's high heels. Lu-Lu Belle was ready to meet the Queen.

"Oh, thank you, Lu-Lu Belle. How can I ever repay your kindness? You may look through my treasure and pick one thing out for yourself. It can be whatever you want." Grandma said in a high-pitched Queen voice.

Lu-Lu Belle giggled at how her grandma sounded, and bowed low to the ground in a graceful curtsey. "Mrs. Queen, I do not want any of your treasure, but would you, could you, will you make me a princess, please?"

"But, of course, I shall make you a princess," Grandma said, still talking in her Queen voice, "Now, kneel before me. I hear by dub you, Princess Lu-Lu Belle of Bedroomia."

Grandma placed a sparkly tiara on Lu-Lu Belle's head and kissed both her cheeks. Lu-Lu Belle stood up and walked around the room waving and blowing kisses to the cheering crowd. They were so happy to have a new princess. As she was waving, Lu-Lu had to stop and cover her mouth as she yawned. She took off her tiara and laid it on her dresser. Then, she climbed into bed and pulled the covers up. "Will you read me a real bedtime story now, Grandma?"

Grandma laughed and said, "Why, Lu-Lu Belle, I don't need to read you a story out of a book for it to be real. Tonight, you were the story."

Lu-Lu Belle's eyes widened and she said, "You're right! I was the story tonight, Grandma. That was so much fun!" Lu-Lu Belle snuggled under her covers and lifted her face up for a good-night kiss.

As Grandma turned out the lights, she heard a soft whispered voice, "Grandma, I changed my mind. I like bedtime stories again. Can I be the story tomorrow night?"

Grandma laughed softly and said, "Yes, Lu-Lu Belle, you can be the story anytime you want. You can have a brand new story any time you use that wonderful imagination of yours."

She leaned over and kissed the little girl's forehead, then tiptoed out of the room leaving a tired, but happy Lu-Lu Belle dreaming about what story she would be next.