The Story of William Tell
This is one of our favorite famous short stories! We love this guy and his son!
Ready for the Story? Let's Go!
Click here to listen to the story.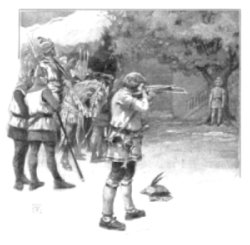 The Story of William Tell
The people of Switzerland were not always free and happy as they are today. Many years ago a proud tyrant, whose name was Gessler, ruled over them, and made their lot a bitter one indeed. One day this tyrant set up a tall pole in the public square, and put his own cap on the top of it; and then he gave orders that every man who came into the town should bow down before it. But there was one man, named William Tell, who would not do this. He stood up straight with folded arms, and laughed at the swinging cap. He would not even bow down to Gessler himself. When Gessler heard of this, he was very angry. He was afraid that other men would disobey, and that soon the whole country would rebel against him. So he made up his mind to punish the bold man.
William Tell's home was among the mountains, and he was a famous hunter. No one in all the land could shoot with bow and arrow so well as he. Gessler knew this, and so he thought of a cruel plan to make the hunter's own skill bring him to grief. He ordered that Tell's little boy should be made to stand up in the public square with an apple on his head; and then he bade Tell shoot the apple with one of his arrows. Tell begged the tyrant not to have him make this test of his skill. What if the boy should move? What if the bowman's hand should tremble? What if the arrow should not carry true?
"Will you make me kill my boy?" he said. "Say no more," said Gessler. "You must hit the apple with your one arrow. If you fail, my soldiers shall kill the boy before your eyes." Then, without another word, Tell fitted the arrow to his bow. He took aim, and let it fly. The boy stood firm and still. He was not afraid, for he had all faith in his father's skill. The arrow whistled through the air. It struck the apple fairly in the center, and carried it away. The people who saw it shouted with joy. As Tell was turning away from the place, an arrow which he had hidden under his coat dropped to the ground. "Fellow!" cried Gessler, "what mean you with this second arrow?" "Tyrant!" was Tell's proud answer, "this arrow was for your heart if I had hurt my child."
And there is an old story, that, not long after this, Tell did shoot the tyrant with one of his arrows; and thus he set his country free.
What would you do?
Bravery, Courage and Faith
Click here to listen.
William Tell showed bravery and courage in this story. What would you do if someone was trying to make you do something that you knew was wrong?
Remember, being brave doesn't mean you're never scared. Being brave means doing the right thing even when you are scared.
Our mom once told us a story about a time she had to do the right thing when she was scared. She was running through the school (someone was chasing her with a water balloon!) and ran right into a big glass door and shattered the whole thing!
Nobody saw her do it. She could have run away, but she knew that wasn't the right thing to do. Even though she was very scared, she went and found the principal and told him what she had done. He was disappointed and made her pay to fix the glass door but he was also very proud of her for being brave and telling the truth.
He was so proud of her that he bought her a rose and gave it to her in front of the whole school at an assembly and told everyone how she had done the right thing. Isn't that cool?
Talk to someone you trust about a time you were scared to do the right thing. Speaking of courage, that reminds us of another story about three very brave men named Shadrach, Meshach, and Abednego who also faced a very cruel king, follow us to their story by clicking here. William's son showed great faith in his father! He trusted his father to shoot the apple and not him! WOW!
Fun Facts:
William Tell Overture
Click here to listen.
William Tell was a real man who lived during the 1300's in Switzerland.
In the 1800's a man named Giochino Rossini composed an opera (which is a play with music and singing) about William Tell.
In the opera there was a musical piece called the William Tell Overture, which is still very famous today.
Your mom or dad (or grandma or grandpa) will remember part of it as "The Lone Ranger" theme song.
The Lone Ranger was a radio and TV show about a cowboy and Indian who fought crime together in the wild west.
Recently the music was made famous again by a comedian named Anita Renfroe who wrote lyrics (which are the words in a song) to the William Tell Overture all about what a mom says in a day - it's very funny!
You can hear it on YouTube if you search for "The Mom Song" (William Tell Overture).
Here is a very old recording of the music - keep listening because the best part starts halfway through!
Did you enjoy the story? If so, you may like this book for 9-12 year olds.
We've seen almost every one othe Adventure in Faith series. This one has the William Tell story and others on it!
Our mom thinks Anita Renfroe is hilarious- she sings the Mom Song to the William Tell Overture.
Moms, I know you can relate to this woman's comedy! If you need to laugh, check out her DVD or CD, she's great!
---
Return from William Tell to Short Story Time
---