Wee Willie Winkie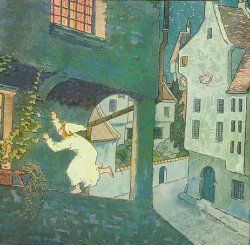 Click the arrow to listen.
This is a fun Mother Goose rhyme. Don't think he's weird because he's wearing a nightgown.
Back when this nursery rhyme was written both men and women wore nightgowns to sleep in!
Now we have PJ's which we think are much better, nightgowns get all wrapped around you at night!
---
Wee Willie Winkie
Runs through the town,
Up-stairs and down-stairs,
In his night gown;
Rapping at the window,
Crying at the lock,
"Are the children in their beds,
For now it's ten o'clock?"
---
Fun Facts
Click the arrow to listen.
Willie may have been a town crier.
What's a town crier you ask? Well, back in the days that these nursery rhyme lyrics were written they didn't have t.v.'s and computers and many towns didn't even have newspapers.
So there were people hired by the King or the Mayor to run through towns shouting out news or proclamations so the townspeople would know important events that were happening.
Sometimes they had to deliver bad news that made people mad, so they were protected by strict laws. If you hurt the messenger it was like hurting the king himself.
That's where the saying, "Don't shoot the messenger." comes from.
---
Return from Wee Willie Winkie to Short Story Time Home

Run over to Mother Goose Bursery Rhymes
---