Aesops Fables: The Fox and the Grapes
Click the arrow to listen.
In this short fable about The Fox and the Grapes we're going to sneak up behind a wiley fox and watch him try to get a bunch of grapes. Shhhh, be quiet so he doesn't hear us!
The Fox and the Grapes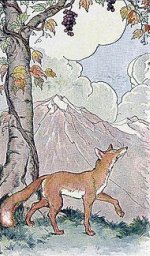 A Fox one day spied a beautiful bunch of ripe grapes hanging from a vine trained along the branches of a tree.
The grapes seemed ready to burst with juice, and the Fox's mouth watered as he gazed longingly at them. The bunch hung from a high branch, and the Fox had to jump for it.
The first time he jumped he missed it by a long way. So he walked off a short distance and took a running leap at it, only to fall short once more.
Again and again he tried, but in vain. Now he sat down and looked at the grapes in disgust. "What a fool I am," he said.
"Here I am wearing myself out to get a bunch of sour grapes that are not worth trying for."
And off he walked very, very scornfully.
The Moral Is : There are many who pretend to despise and belittle that which is beyond their reach.
What did you learn?
Click the arrow to listen.
Did you see him? Boy, he wore himself out trying to get those grapes!
Why do you think he decided the grapes must be sour?
We think he was trying to make himself feel better about not being able to have the grapes.
What Would You Do?
Has there ever been a time when you wanted something that you couldn't have?
For example, say your friend got an iPod for Christmas and you wanted one so bad but you didn't get one.
Then to make yourself feel better maybe you said that your friend's iPod was stupid and that you would rather have an iPhone any day...
...instead we should always try and be thankful for what we have and be happy for other people when good things happen to them.
Let's sneak away from The Fox and the Grapes and go onto some other short fables.
Click here to go on safari with a lion and a mouse!


---
Return from The Fox and the Grapes to Short Story Time

Return to Aesops Fables
---