Rain Rain Go Away
Click the arrow to listen.
This Mother Goose Nursery Rhyme is very, very short but so sweet.
Rain rain go away;
Come again another day;
Little Mary wants to play.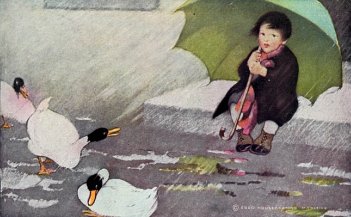 ---
Fun Facts About Rain
Click the arrow to listen.
Did you know that raindrops can fall at speeds of up to 20 miles an hour?!
Did you know God had this whole recycling thing down before we ever even knew it existed?
When God made the Earth and everything in it he created all the water that we would ever need, we never get more - it just gets recycled.
All rain is just water from the oceans, lakes and rivers that has evaporated and filled the clouds so full that they can't hold the moisture anymore.
Then they literally burst and drop the rain back into the oceans, rivers and lakes and it starts the process all over again! Cool huh?
If you enjoyed this free nursery rhyme click here to see many more.
---
Return from Rain Rain Go Away to Short Story Time Home
---