Mother Goose Nursery Rhymes: Pat-a-Cake
This is an easy and fun Mother Goose Nursery Rhyme our mom played with with us when we were little! The little ones in your family will want to sing the rhyme and do the motions over and over again!
Just follow along below with the motions as you sing the rhyme. Then scroll down for a mouth watering recipe you can bake together with an adult helper! It's one of our favorite, very easy cakes to make!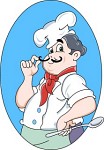 Pat-a-Cake, pat-a-cake, baker's man! (clap the baby's hands)
Make me a cake as fast as you can:
Roll it, and pat it, and mark it with B, (roll and pat)
Then throw it in the oven for Baby and me. (make sure you THROW you hands up)
Bake a Cake!
Have the whole family pitch in! This is easy enough for the littlest ones in your home to help - you can't mess it up!
Make sure mom and dad help with the oven!
CHERRY PINEAPPLE DUMP CAKE
1 can (16 oz.) crushed pineapple
1 can (20 oz.) cherry pie filling
1 pkg. yellow cake mix
1/2 c. butter
Grease a 9 x 13 inch pan.
Dump in the pineapple and juice and cherry pie filling and mix up.
Pour the dry cake mix over the fruit.
Then slice the butter and lay all over the top.
Do not mix it.
Bake in a 350 degree oven 1 hour.
What Did You Learn?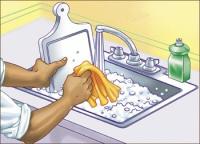 Click the arrow to listen.
Cooking is a great way to learn! It's also fun for the whole family!
Knowing how to read makes cooking a lot easier!
You learn lots of math while you're measuring and converting.
You learn how to follow directions.
You also learn responsibility and how to clean up after yourself.
* Click on Kid Cupcakes below to get more wonderful ideas for baking together!
Kid Cupcakes
Creative Cupcakes recipes and decorating ideas for your childs celebrations. Theme cupcakes, birthday cupcakes, character cupcakes and more.
---
Return from Pat-a-Cake to Short Story Time Home

Run as fast as you can over to more Mother Goose Nursery Rhymes!
---