Mother Goose Nursery Rhymes: Mary Mary Quite Contrary
Click the arrow to listen.
Mary Mary quite contrary,
How does your garden grow?
With silver bells and cockle shells,
And pretty maids all in a row.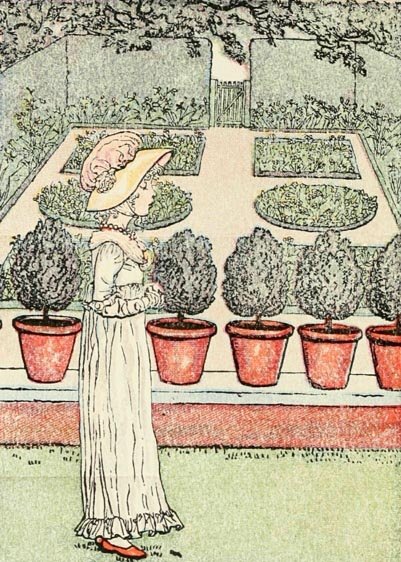 Fun Facts
Click the arrow to listen.
* What does contrary mean?
If you are being contrary it just means that you are acting or thinking opposite of a group or another person. So if my kids want to go see "Where the Wild Things Are" and I want to see "The Lion the Witch and the Wardrobe" I am being contrary.
* What are cockle shells?
A cockle is like a clam or an oyster. It is a soft bodied animal that is protected by a hard shell.
History of Mary Mary Quite Contrary
Click the arrow to listen.
We know this nursery rhyme makes no sense at all but that's probably because it was written with hidden meanings - like a secret code.
There are several theories about the true meaning of this Mother Goose Nursery Rhyme and most of them mention a very cruel queen, Queen Mary I of England.
She was a Catholic and had many Protestants killed because of their beliefs. Some say that the "silver bells and cockle shells" were instruments of torture she used and that the "pretty maids" was a code word for the guillotine. And that "all in a row" referred to all the people that were executed laying in a cemetery!
Yikes! I'm so glad she's not Queen anymore! But did you know that people are still persecuted (which means tortured or killed) for what they believe?
In some countries it is still illegal for people to believe something other than what the government there tells them to believe and they can be arrested for it - let's be praying for those countries and the people living in them!
We are very thankful that we live in a country that does not punish us for what we believe!
---
Return from Mary Mary Quite Contrary to Short Story Time Home

Wander back to Mother Goose Nursery Rhymes for more!
---