Little Miss Muffet
Click the arrow to listen.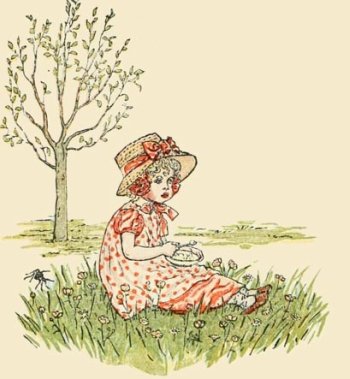 Little Miss Muffet
Sat on a tuffet,
Eating her curds and whey;
Along came a spider,
That sat down beside her,
And frightened Miss Muffet away.
What are Curds and Whey?
Click the arrow to listen.
Curds and whey is really just cottage cheese. The curds are the little round balls and the whey is the milky part.
Did you know cottage cheese is very good for you? It has protein and calcium - both will help you grow healthy and strong!
We like to eat it with pineapple or watermelon! Yum!
What is a Tuffet?
You know what to do - click the arrow to listen.
A tuffet is just a name for a low stool. So she was sitting on a small stool.
One of us wouldn't have minded the spider that joined Miss Muffet but one of us would have also been frightened away! Can you guess who?
---
Return from Little Miss Muffet to Short Story Time Home

Back to Mother Goose Nursery Rhymes
---