For One More Day!
by Betty Riordan
(K.C. Missouri )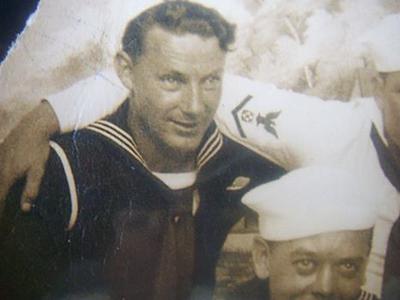 Papa in WW 2… coming home!

*An article in the Kansas City Star appeared by Mitch Albom, the author of Tuesdays with Morrie and the Five People You Meet in Heaven. In the article was an excerpt from his latest book, For One More Day. He asks, "If you had one more day to spend with someone who is gone, who would it be and what would you do?"


The construction crew seemed to have many excuses for not having the new house finished: weather, supplies, carpenters, etc. The house was an unsafe place to be. A wooden plank led from the yard into the house. Rain had left many areas in the yard unsafe for walking. Would they ever finish?

One day on the way to see how the construction was coming along, I dropped in to visit my dad at the rest home, where he had been for almost a year. "How is the house coming along?" he asked.

"They will be finished soon," I said.

"I want to see it!"

"It's not safe to go yet. It won't be long."

"You've been saying that for months, now. Why can't I see it?"

"Papa, the moving company should have everything moved by the first part of June. That will be a good time to see it... only a few months away."

June never came for Papa. He died unexpectedly the end of February.

If I had one more day to spend with my dad, we would pick up his favorite meal of catfish and have a picnic in my backyard... just the two of us.

A statue of St. Francis stands in my flower garden... a gift from my dad a year before, when he went into the rest home. In my garden, I feel dad's presence and cherish memories of him. I had lost my best friend.


* ! CORINTHIANS 13: 4-7...a scripture about love.