Aesops Animal Fables: Stories about Dogs and Cats
Click the arrow to listen.
You're back! Are you ready for more of Aesops animal fables? We love that you're here learning and having adventures with us through these short stories online! We're going to start out with a very cute puppy who learns a lesson about being greedy!
Aesops Animal Fables: The Dog and His Reflection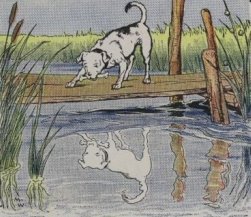 A Dog, to whom the butcher had thrown a bone, was hurrying home with his prize as fast as he could go.
As he crossed a narrow footbridge, he happened to look down and saw himself reflected in the quiet water as if in a mirror.
But the greedy Dog thought he saw a real Dog carrying a bone much bigger than his own.
If he had stopped to think he would have known better. But instead of thinking, he dropped his bone and sprang at the Dog in the river, only to find himself swimming for dear life to reach the shore. At last he managed to scramble out, and as he stood sadly thinking about the good bone he had lost, he realized what a stupid Dog he had been.
The Moral Is: It is very foolish to be greedy.
Aesops Animal Fables: The Cat and the Old Rat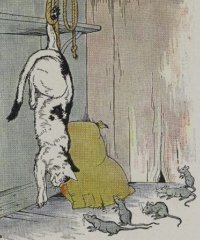 Click the arrow to listen.
There was once a Cat who was so watchful, that a Mouse hardly dared show the tip of his whiskers for fear of being eaten alive. That Cat seemed to be everywhere at once with his claws all ready for a pounce. At last the Mice kept so closely to their dens, that the Cat saw he would have to use his wits well to catch one. So one day he climbed up on a shelf and hung from it, head downward, as if he were dead, holding himself up by clinging to some ropes with one paw.
When the Mice peeped out and saw him in that position, they thought he had been hung up there in punishment for some misdeed.
Very timidly at first they stuck out their heads and sniffed about carefully. But as nothing stirred, all trooped joyfully out to celebrate the death of the Cat.
Just then the Cat let go his hold, and before the Mice recovered from their surprise, he had made an end of three or four.
Now the Mice kept more strictly at home than ever. But the Cat, who was still hungry for Mice, knew more tricks than one.
Rolling himself in flour until he was covered completely, he lay down in the flour bin, with one eye open for the Mice.
Sure enough, the Mice soon began to come out. To the Cat it was almost as if he already had a plump young Mouse under his claws, when an old Rat, who had had much experience with Cats and traps, and had even lost a part of his tail to pay for it, sat up at a safe distance from a hole in the wall where he lived.
"Take care!" he cried. "That may be a heap of meal, but it looks to me very much like the Cat. Whatever it is, it is wisest to keep at a safe distance."
The Moral Is: The wise do not let themselves be tricked a second time.
Aesops Animal Fables: The Dog, the Cock and the Fox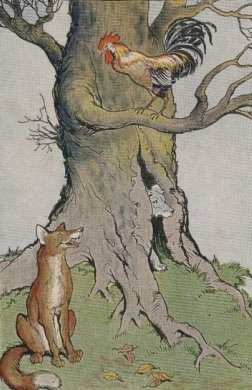 Click the arrow to listen.
A Dog and a Cock, who were the best of friends, wished very much to see something of the world.
So they decided to leave the farmyard and to set out into the world along the road that led to the woods.
The two comrades traveled along in the very best of spirits and without meeting any adventure to speak of.
At nightfall the Cock, looking for a place to roost, as was his custom, spied nearby a hollow tree that he thought would do very nicely for a night's lodging. The Dog could creep inside and the Cock would fly up on one of the branches.
So said, so done, and both slept very comfortably. With the first glimmer of dawn the Cock awoke.
For the moment he forgot just where he was. He thought he was still in the farmyard where it had been his duty to arouse the household at daybreak. So standing on tip-toes he flapped his wings and crowed lustily. But instead of awakening the farmer, he awakened a Fox not far off in the wood. The Fox immediately had rosy visions of a very delicious breakfast.
Hurrying to the tree where the Cock was roosting, he said very politely:
"A hearty welcome to our woods, honored sir. I cannot tell you how glad I am to see you here.
I am quite sure we shall become the closest of friends."
"I feel highly flattered, kind sir," replied the Cock slyly. "If you will please go around to the door of my house atthe foot of the tree, my porter will let you in. "The hungry but unsuspecting Fox, went around the tree as he was told, and in a twinkling the Dog had seized him.
The Moral Is: Those who try to deceive may expect to be paid back equally.
Have you enjoyed these animal fables adventures so far? There's more so keep on scrolling!
Aesops Animal Fables: Belling the Cat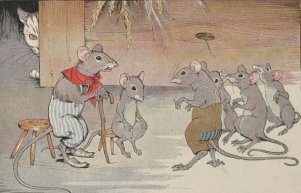 Click the arrow to listen.
The Mice once called a meeting to decide on a plan to free themselves of their enemy, the Cat.
At least they wished to find some way of knowing when she was coming, so they might have time to run away.
Indeed, something had to be done, for they lived in such constant fear of her claws that they hardly dared stir from their dens by night or day.
Many plans were discussed, but none of them was thought good enough. At last a very young Mouse got up and said:
"I have a plan that seems very simple, but I know it will be successful. All we have to do is to hang a bell about the Cat's neck. When we hear the bell ringing we will know immediately that our enemy is coming."
All the Mice were much surprised that they had not thought of such a plan before. But in the midst of the rejoicing over their good fortune, an old Mouse arose and said:
"I will say that the plan of the young Mouse is very good. But let me ask one question: Who will bell the Cat?"
The Moral Is: It is one thing to say that something should be done, but quite a different matter to do it.


Wow, we never knew animal fables could teach us so much about life and how to make good choices!
We hope you'll check out some more of Aesops animal fables on our other adventure pages by clicking the links below!
---
Return from Animal Fables to Short Story Time
---